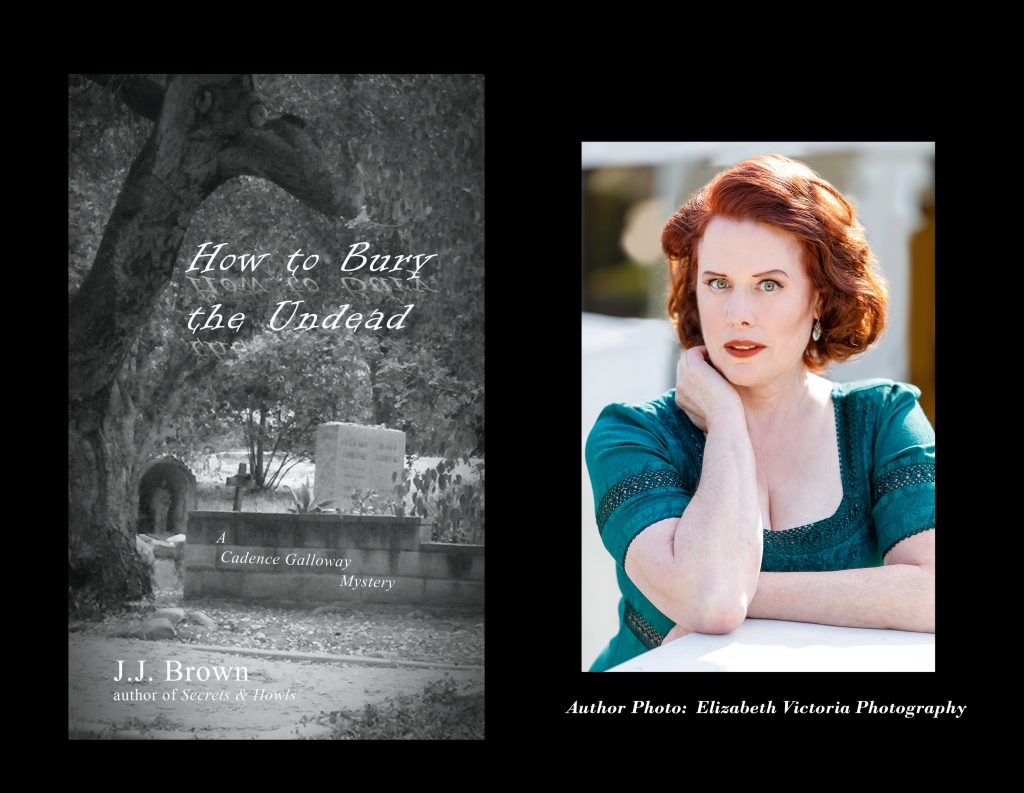 J.J. Brown Wrote Fan Fiction as a Child, and that Helped her Develop as a Writer
Tell us a little about your background:
A long time ago, in a small, Southern California town movie theater, I discovered a galaxy far, far away. At seven years old, I wanted to be a part of that galaxy so badly, that I wrote myself into it and, later, into other favorite books, TV shows and movies. I discovered, years later, that this was fan fiction and what it taught mw as a writer was invaluable. By adding myself to my favorite stories, I learned about the intricacies of world-building and character. This helped me to find my voice and hone my craft.
Art has also been a huge part of my life and I would create images of my stories through drawing and watercolors, with an occasional dabble in oils and pastels. I also pursued theater, which served as other avenues for story-telling and helped me to better develop my characters. Always, however, I came back to writing, as it is what truly fires my imagination.
Do you have a "real" job other than writing, and if so, what is it? What are some other jobs you've had in your life?
Yes, my current day job involves packing tea into apothecary jars, different sized pouches, and small traveler jars. I've also worked in a barn, a hardware store, and had a few temp jobs in between.
Have you always wanted to be a writer?
Well, I began writing at the age of seven, mostly to amuse myself. It probably wasn't until I was in the seventh grade that writing had become something I really wanted to do for the rest of my life.
Tell us a little bit about your books. What are the titles?
My most recent book, published in October 2021, is How to Bury the Undead, and is the first in a new series.
It follows Cadence Galloway from New Orleans to northern California as she unravels the secrets buried in her past. Along the way, she aids a spectral priest when vampires vandalized his now-abandoned church, uncovers connections to a local family, and learns the true nature of her own power.
Secrets & Howls (October 2011), set in June 1978, follows Marita Brye as she moves home to Wolf's Head Bay after more than a decade away, determined to uncover the truth behind her mother's death. What she finds is the truth behind the town she grew up in, thanks to an old journal kept by an ancestor, a local witch named Madison, and the sexy FBI agent assigned to investigate a mass grave dating back to 1852. This is also a first in a series.
Both books/series are set in the same paranormal universe, with minor characters crossing over from one series to another.
Are you currently working on any writing projects our readers should watch for release soon?
I am working on the sequel to this book, as well as two other projects, but they are currently in the early stages.
What type of music, if any, do you listen to while you write?
I collect motion picture soundtracks, some classic rock and roll (from the '50s through the '80s), jazz, and Big Band.
The book determines what music I listen to – for Secrets & Howls, I listened to a LOT of disco, '70s rock, and, of course, Warren Zevon's Werewolves of London.
When growing up, did you have a favorite author, book series, or book? What about now: who is your favorite author and what is your favorite genre to read?
I had far too many to count, lol!! But Stephen King was a major influence; also, Dorothy Sayers, Agatha Christie, Shirley Jackson, Sir Arthur Conan Doyle, to name a few others.
I still read them, plus a few others that I've discovered along the way (past and present).
Many authors have said that naming their characters is a difficult process, almost like choosing a name for their own child. How did you select the names of some of your lead characters in your book/s?
I always have a lot of fun finding names for characters – sometimes it's an easy fit, sometimes it's not. In How to Bury the Undead, one character was never really satisfied with his name–it changed thirteen (or was it fourteen?) times and his nationality twice. The final choice ended up being quite satisfactory, both for him and for me.
It's said that the editing process of publishing a novel with a publisher is can be grueling and often more difficult than actually writing the story. Do you think this is true for you? How did you feel about editing your novel?
Editing a book is not the easiest–the editor and the writer may not always see eye to eye on what stays in and what comes out.
But it also depends on how well the writer and the editor work together and I was fortunate enough to work with two brilliant, supportive, and amazing editors, whose skill complemented each other and my work.
Is there anything else you want your readers to know about you? Include links/information on where to find your books, any blogs you may have, or how a reader can learn more about you and your writing.
You can follow me on:
Twitter (@jjbwordslinger);
Instagram (@jjbrownwordslinger);
my blog (jjbrownwordslinger.com);
and on Facebook (www.facebook.com/JJBrownWordslinger).
Thanks, J.J., for telling us about your writing,
Vanessa