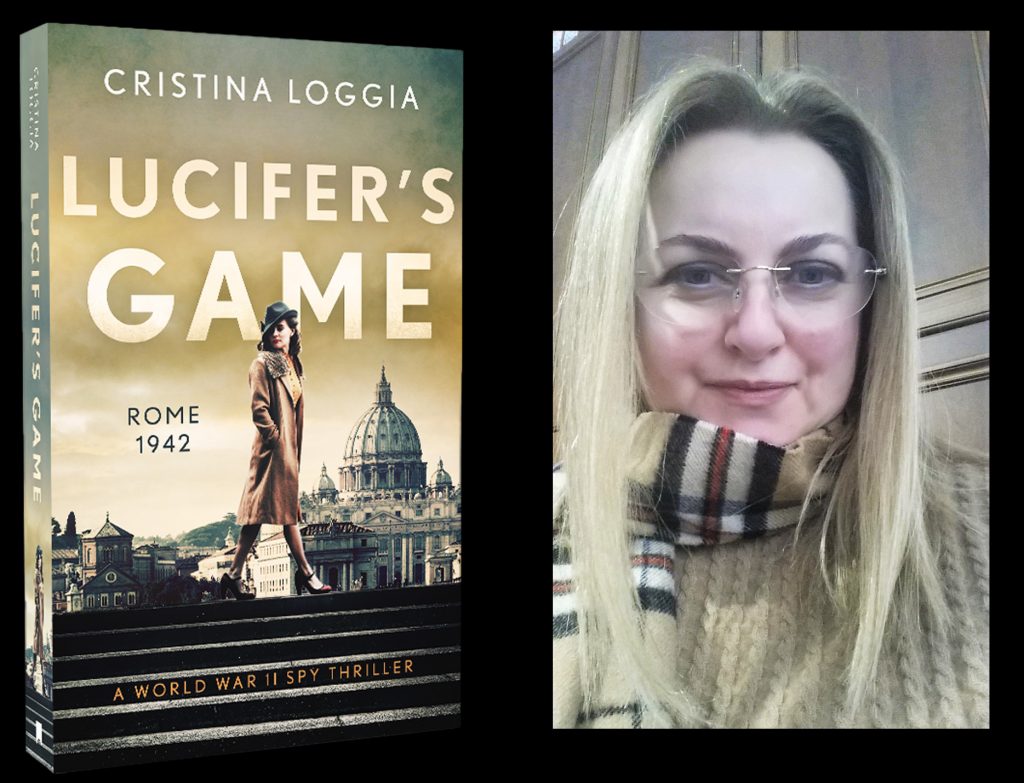 Christina Loggia, Newspaper Reporter Turned Thriller Author
Here's a short biography of Christina:
Cristina started her career as a newspaper reporter for L'Eco di Biella and La Provincia di Biella, in Piedmont, Italy. After a spell running the press office of an MP, she moved to London, where she worked for several years as a public affairs and media relations professional, advising major multinational corporations on communications campaigns. Cristina has a Ph.D. in English Literature and Foreign Languages at the Catholic University of Milan, Italy. Writing and reading have always been her greatest passion, she loves traveling, good, authentic food and she loves to discover local dishes. She is passionate about animal welfare and the environment. Lucifer's Game is her first fiction novel. Cristina is a member of The Society of Authors, The Crime Writers' Association, and The Historical Writers' Association. She currently lives with her husband in Berkshire, United Kingdom.
1. What compelled you to write your first book?
I am passionate about the Second World War and over the years I read many history books on this terrible conflict. I also read a very interesting account about deception during the Second World War, that mentioned there were a number of English spies operating in Benito Mussolini's Fascist Italy, the soft underbelly, as Winston Churchill famously described it.
Documents showed that one of these spies at some point got a message from London congratulating him for his work in stopping Erwin Rommell in North Africa – he was a formidable German general that almost defeated the Allies in that part of the world, which would have been an absolute catastrophe for them. I was intrigued! How did this spy managed to do it? How could have this happened? I combined this initial idea with the countless stories that both my grandfathers, who fought in the war, told me as a child, which were quite dramatic – they both came face-to-face with the Germans, with one ending up in a concentration camp and the other thrown in jail. And so my debut novel 'Lucifer's Game' was born.
2. Tell us a little bit about your book/s. What is the title?
The book is titled Lucifer's Game, and it's set in Fascist Rome, in 1942 to be precise. The protagonist, Cordelia Olivieri is a young, determined hotel owner desperate to escape Mussolini's racial persecution. But as Fascist leaders gather in Rome, Cordelia is suddenly surrounded by the world's most ruthless and powerful commanders. In an effort to keep her Jewish heritage a secret and secure safe passage out of Italy, Cordelia forms a dangerous alliance with the British army who want to push the Axis out of North Africa once and for all. Going undercover, Cordelia begins obtaining and leaking military intelligence to a British agent, hoping the intel will secure her freedom. But the more Cordelia uncovers, the greater the risks – especially for one handsome German Afrika Korps officer.
3. Are you currently working on any writing projects our readers should watch for release soon?
I am currently working on my second novel, another historical thriller based on a real event. It will take a few more months to finish it and I hope it'll be released by the end of the year.
4. The main characters of your stories – do you find that you put a little of yourself into each of them or do you create them to be completely different from you?
I think it's quite inevitable to have something of myself in some of the characters, or somebody I came across in fact, very different from me: although most of them, in my book are completely fictional, I was partly inspired by the personality and behaviour of some real, contemporary people I know or knew. One of the characters is based on a real person, a monk, who actually existed. But I gave him a fictional personality – probably even worse than what he really was! What was important for me in creating those characters was that people do what they do not only because of the personal circumstances they found themselves in, but because of who they are, what they think, what they believe it's right or wrong to do and how far they are prepared to go to achieve it.
5. When growing up, did you have a favorite author, book series, or book?
Ian Fleming, for sure! I was swept away when I read Dr.No for the first time, such a great story! Then I read all of his books. But also much earlier on, Walt Disney books: they always had the best depictions of good and evil, with people or other characters that had feelings and displayed an ethical – or unethical – behavior. I learned a lot from Walt Disney!
Thanks for a great interview,
Vanessa