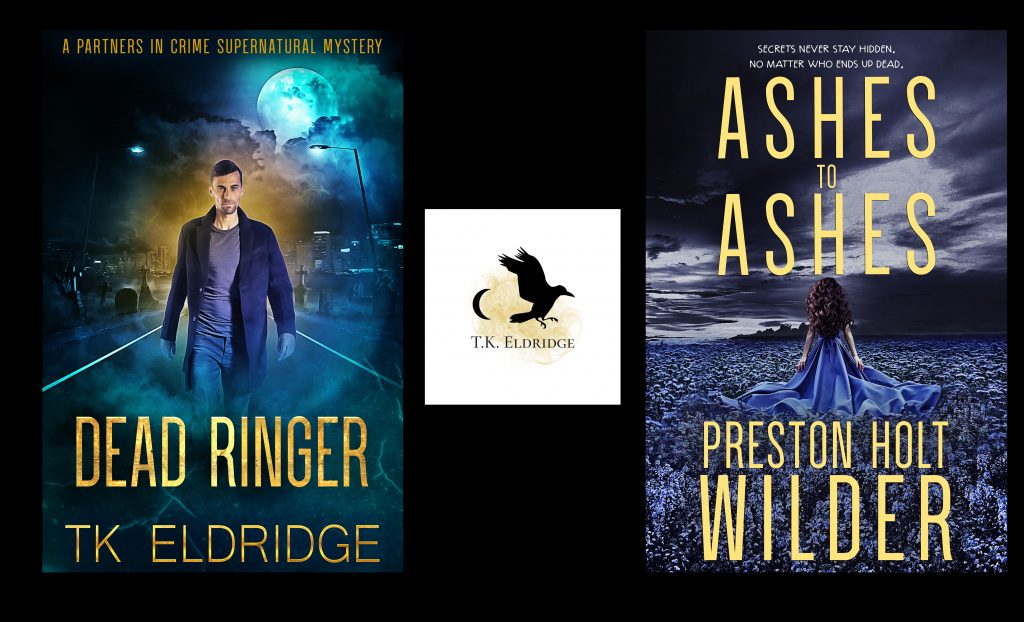 Mystery Author TK Eldridge is a Writer With a Double Identity
Tell the readers a little about yourself.
I retired from a career in Intelligence for the US Government to write. The experiences from then are now being used to feed the muse for paranormal romance, mysteries, supernatural, and urban fantasy stories. When I'm not writing, I am enjoying life in the Blue Ridge Mountains of western North Carolina. Two dogs, a garden, a craft hobby, and a love of Celtic Traditional music keeps me from spending too much time at the computer.
I also have a penname––Preston Holt Wilder––where the mystery/thriller stories don't have any paranormal or supernatural components. Marketing needs meant I split them up because people were upset if they picked up a book from "TK" with no para/super stuff.
Do you have a "real" job other than writing, and if so, what is it? What are some other jobs you've had in your life?
I spent nearly two decades in Intelligence and before that, I worked in information tech. Shortly after I completed my second Master's degree, I had to retire due to disability. I'm not good at being idle, so writing was a natural progression.
Have any of your jobs outside of writing influenced your writing?
My experiences from both my IT and my IC careers feed my stories. In IT, I worked with all levels of law enforcement from local to Secret Service and helped shut down child pornography rings, etc. I then went into IC and specialized in domestic counterterrorism – so a lot of that also shows up as fodder for stories.
Have you always wanted to be a writer?
Oh, yes. I have a book where a six-year-old me added to a story by writing in green crayon in the back of the book.
My senior high school photo tagline was "Full many a writer has more of an itch for getting things published than striking it rich."
Tell us a little bit about your book/s. What is the title?
The most recent release is "Ashes to Ashes" under the PHW penname. It's a murder mystery with an older heroine and a second-chance romance as a secondary plot.
Current work in progress is "Dead Ringer", the fifth book in the Partners in Crime series. Partners is a supernatural mystery with cops and ghosts. It is my most popular series to date. It starts with Dead & Buried – a free first in series novel.
If you've written more than one novel, which is your favorite?
I don't think I have a solid favorite – they all talk about family, chosen and blood, and about being different and finding a way to make a life for oneself. I am having a lot of fun writing the Partners in Crime series, though.
Have you ever won any writing awards? If so, what?
I was just nominated for a Silver Falchion award with Killer Nashville for 2022––so there's that. I've only been published for a little over 2 years, so no other awards yet.
What about your family? Do you have children, married, siblings, parents? Has your family been supportive of your writing?
My mom is 79 on March 19th and she is my biggest fan. She even has a t-shirt that says, "My daughter is my favorite author". I love that she gets to read my work and enjoy it.
Do you have any pets? What are they? Tell us about them
Two dogs at the moment – Ace, a Pitty/Shar-Pei mix, and Bear, a Yorkie-Chihuahua mix. They're snoring away in their dog beds here in my office right now.
Where do you write? Set the scene for us when you are writing. What does it look like? On the couch, laptop, desk? Music? Lighting, handwriting? Or do you write at a coffee shop or other location?
Near the end of my Intel career, I was doing a lot of consulting and worked from home. I learned early that I needed a separate space for work versus home life or I'd always be working. I currently have a room that has a twin-sized daybed for guests but is mainly my office space.
Dual monitors, corner desk with a window view to the side, LED fairy lights around the whole room up on the crown molding, and lots of organized spaces in a cabinet and bookshelf.
I love that I can close the door if necessary, but when I walk out of the office and shut off the lights––I tell myself I'm done. That doesn't mean I don't get ideas and run back in there to write them down––but it's a physical separation that seems to help me keep things sorted in a more healthy manner.
Do you watch television? If so, what are your favorite shows? Does television influence or inspire your writing?
Recharge time means watching TV or reading. I love cop dramas, mysteries, and have subscriptions to several streaming services.
Focusing on your most recent (or first) book, tell our readers what genre your book is and what popular author you think your writing style in this book is most like.
I tend to cross genres. For example, my urban fantasy series, Hybrid Chronicles, sells best as PNR. My Sid & Sin series is a paranormal mystery with some romance that also sells as fantasy. I think the Partners in Crime series (with my current WIP, Dead Ringer) fits a solid supernatural mystery category with murder mysteries and ghosts helping to solve the crimes, while Ashes to Ashes and The Descendants Trilogy are both romantic suspense and mystery/thriller.
How long did it take you to write your most recent (or first) book? When you started writing, did you think it would take that long (or short)?
I tend to write fast. My first book was published June 2019, and I've put out 22 books since then.
Wow. Twenty-two books. That's amazing. Is there anything you'd go back to do over in your writing career now that you have been published?
Yeah, figure out what works for me and don't try to follow every piece of advice. There are some basics that everyone should do, but there were two pieces of advice that stuck. "When in doubt, write the next book." And, "Keep doing your best to improve."
What is your main goal or purpose you would like to see accomplished by or with your writing?
I write LGBTQ+ characters in all of my books––because I have a lot of LGBTQ+ people in my life. I write from my experiences and I have blood family and chosen family––and I want that to be seen as normal, not surprising.
I want people to be able to relate to my characters, enjoy a good story, and maybe learn something. We get to see things through another lens when we read––maybe it'll help people understand in a way they might not otherwise have been able to process. Who knows?
Have you ever had a character take over a story and move it in a different direction than you had originally intended? How did you handle it?
Always. I tend to do a rough, bullet-point outline for a story and about halfway through the book, the characters have taken that outline off-roading and I have to go back and rework it all so I don't miss any threads. Part of the joy I get from writing is seeing where things go that I hadn't originally expected them to be headed.
Now that you are a published author, does it feel differently than you had imagined?
Yes and no. The self-satisfaction is what I expected. The feeling that I have finally accomplished something I've wanted to do since I was a small child is amazing. It's a lot more work than I expected, but not in a bad way.
Is there anything else you want your readers to know about you? Include information on where to find your books, any blogs you may have, or how a reader can learn more about you and your writing.
People can find me at https//tkeldridge.com or on BookBub at https//www.bookbub.com/profile/t-k-eldridge
My newsletter is generally 1x a month and you can sign up for that here https//tkeldridge.com/newsletter/
Thank you, TK Eldridge, for a fascinating look into your work and the different types of mysteries you write,
Vanessa