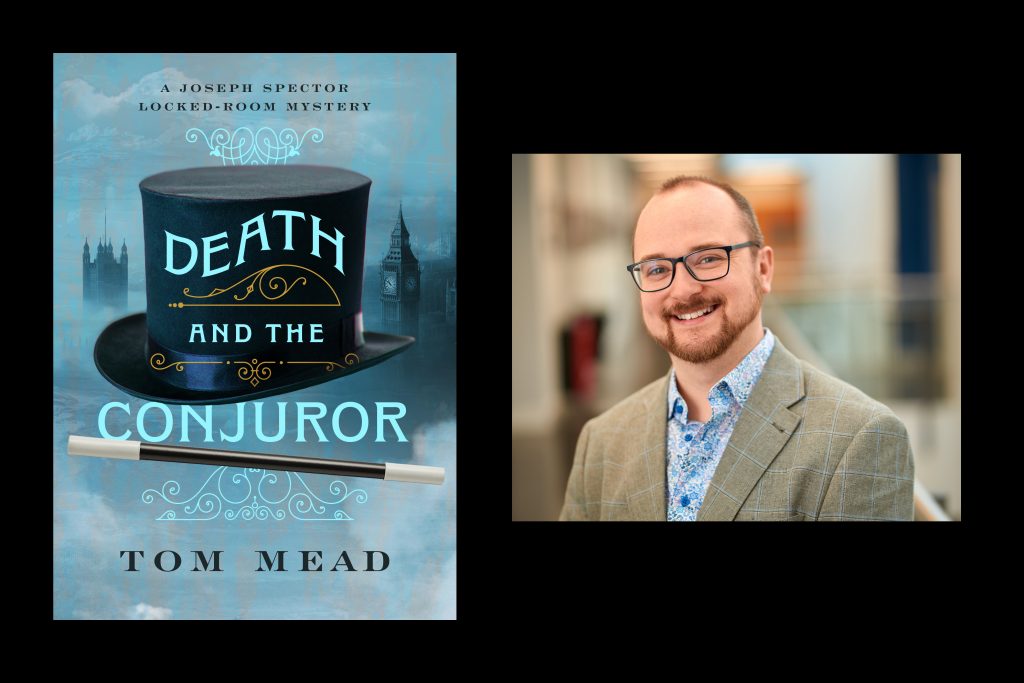 UK-Based Crime Fiction Author Tom Mead Specializes in Locked-Room Mysteries
Tom Mead is a UK-based crime fiction author specializing in locked-room mysteries. He is an active member of the UK Crime Writers' Association and the Society of Authors. His short fiction has appeared in Ellery Queen Mystery Magazine, Alfred Hitchcock Mystery Magazine and numerous others. Most recently, his short story "Heatwave" was selected by Lee Child for inclusion in his Best Mystery Stories of the Year 2021. Tom's debut novel Death and the Conjuror is published by Mysterious Press in July 2022, and has been called "a true delight for mystery lovers" by NYT Bestseller Charles Todd. It has also been named a "Buzz Book" by Publishers Marketplace. Death and the Conjuror is a locked-room mystery in the tradition of John Dickson Carr, and features fictional sleuth Joseph Spector, who has appeared in a number of Tom's short stories.
Do you have a "real" job other than writing, and if so, what is it? What are some other jobs you've had in your life?
I live in Derby which is right in the dead centre of the UK, and in the past I've worked for the University of Derby and Derby College in a few different positions. Typically these have been administrative or student support roles. But in recent years I found myself gradually reducing my working hours to make time for writing. And as of July 2021 I'm now a full-time writer! It was a huge leap to make, but the time certainly felt right. These days I'm freelance. I provide editing services and I've ghostwritten six romance novels in addition to the mystery fiction which is published under my own name. Another ongoing project of mine is the translation of several mystery novels which have never before appeared in English. I've completed two so far, and I very much hope they will see the light of day at some point in 2022 as well!
Tell us a little bit about your book.
Death and the Conjuror is set in 1930s London. It's my tribute to the golden age of classic mysteries, and it pits the retired music hall conjuror-turned-detective Joseph Spector up against an apparently invisible killer. It's a locked room mystery in the tradition of John Dickson Carr (my favourite writer). I've done my best to channel everything I love about Carr's work into my own book. In that respect, it's a real labour of love. It's also a completely fair-play mystery, and if readers are paying close attention then they will hopefully be able to solve the puzzle for themselves. I've even put in an Ellery Queen-style "challenge to the reader" near the end. Spector is a character I really love to write about- he's a magician with a taste for all things occult and supernatural. His speciality is finding rational explanations for apparently impossible occurrences. His latest outing is in "The Footless Phantom," a short story published in the March/April issue of Ellery Queen Mystery Magazine.
I'm absolutely delighted with the early responses Death and the Conjuror has been receiving. NYT Bestseller John Connolly has called it "a novel to intrigue and delight" and Edgar Award winner Daniel Stashower has called it "both an elegant tribute and a cunning update of the classic 'impossible crime' story." Praise indeed! It's also been named a "Buzz Book" by Publishers Marketplace, which is very exciting too. I can't wait for people to read it.
Do you belong to any writing forums or organizations that have helped spur your career as a writer? If so, tell us about them and how they've helped you.
I do indeed; I'm a member of the UK Crime Writers' Association and the Society of Authors. Both of these organizations are invaluable resources for writers. The CWA offers all kinds of support (including financial) for writers, as well as sponsoring prizes and all sorts of other things. And just one of the benefits of the Society of Authors is that members are entitled to free legal guidance with things like publishing contracts. That can also be really useful.
What type of music, if any, do you listen to while you write?
I do love listening to music when I'm working, but the genre depends on my mood. It also depends on the type of scene I'm trying to write. With Death and the Conjuror, for instance, I was looking to create an image of shadowy figures in fog-shrouded London. I remember listening to Paganini's Caprices and that really helped me to shape a chase scene through the streets and alleyways of London. But other times I'll go for anything from classic rock to Broadway soundtracks.
When growing up, did you have a favorite author, book series, or book?
I was lucky enough to grow up in a house full of mystery lovers. I read Agatha Christie very young and that helped to shape my approach to books and authors. It also started off my obsession with golden-age mysteries, and led me to discover other writers like Christianna Brand, Nicholas Blake, Michael Innes, Ellery Queen and of course my absolute favourite: John Dickson Carr. His Gideon Fell and Henry Merrivale mysteries were a revelation to me. What I admire most about Carr is the way he really makes the reader think there's no way this could possibly have happened, before going on to show you exactly how it DID happen. In that respect, he was like a conjuror- but one who wasn't afraid to show you how the tricks are done.
What about now: who is your favorite author and what is your favorite genre to read?
I still reread the classics frequently, including Carr, Christie and Queen. Locked-room mysteries have always been my favourite genre. I use "locked-room mystery" as an umbrella term for the impossible crime subgenre; anything that appears to be impossible or supernatural, but actually has an ingenious rational solution. Paul Halter is one of the best and most prolific authors currently writing this type of mystery, and he's certainly a firm favourite of mine. The Fourth Door is a masterpiece and a great entry point for readers who are new to his work. Other favourites include Soji Shimada, James Scott Byrnside and Masaya Yamaguchi's Death of the Living Dead, which was originally published in Japanese over 30 years ago but was finally translated into English in 2021!
Do you have any pets? What are they? Tell us about them
I do indeed! I have a black cat called Chloe, she is absolutely gorgeous. She's very vocal, affectionate and also a terrible thief with an insatiable hunger for human food. I read recently that black cats have a hard time finding homes because people think they are unlucky. Well, I can tell you for a fact that Chloe is my lucky charm.
How long did it take you to write your most recent (or first) book? When you started writing, did you think it would take that long (or short)?
Actually, it's a number of years since I first came up with the idea for Death and the Conjuror. I've been writing short stories featuring Joseph Spector for a long time, and I like trying to come up with original impossible problems for him to solve. But I knew straight away that this particular idea was too big for a short story. And once I embraced the notion of writing a full-length mystery novel, I had so much fun immersing myself in 1930s London. A number of characters in the book are based on real-life historical figures, so I was able to go in-depth with my research, too, which I really enjoyed.
Is there any one particular book that when you read it, you thought, "I wish I'd written that!"?
Honestly, there are tons of books I wish I'd written. I find new ones all the time. Usually it's a mystery with a real knockout twist. Anything by John Dickson Carr, including The Hollow Man, He Who Whispers and The Problem of the Green Capsule. Green for Danger by Christianna Brand, The Egyptian Cross Mystery and The Finishing Stroke by Ellery Queen. The Beast Must Die by Nicholas Blake. When it comes to more contemporary novels, I'm very jealous of Anthony Horowitz's Magpie Murders, Elly Griffiths's The Stranger Diaries, and Gallows Court by Martin Edwards. They are fantastic books that deserve all the acclaim and adulation in the world. Those three writers are at the absolute top of their game.
What is your main goal or purpose you would like to see accomplished by or with your writing?
I just want to share my enthusiasm for intricate puzzle plots and unexpected twists. I've packed Death and the Conjuror with tons of references to the mystery writers I admire, so hopefully it will encourage readers to do a bit of digging for themselves and discover some classic authors who deserve to be read and celebrated in the 21st century. But in terms of personal ambition, I'd love to turn the Joseph Spector mysteries into a long-running series. I'm currently writing the sequel to Death and the Conjuror, and I've already written a number of short stories featuring Spector. I'll keep writing impossible mysteries for him to solve as long as the ideas keep coming!
Is there anything else you want your readers to know about you? Include information on where to find your books, any blogs you may have, or how a reader can learn more about you and writing.
Well, I try to be very active on social media, and I absolutely love discussing impossible crimes and classic mysteries, so feel free to get in touch! My author page on Facebook is: https://www.facebook.com/tommeadauthor
I use it to share all kinds of things about the authors that influence me, my book recommendations, as well as the latest publishing information about my own work.
Alternatively, I'd love you to check out my author website: https://tommeadauthor.com/
And lastly (but not least), you can always email me at: tommeadauthor@gmail.com As for Death and the Conjuror, you can preorder the hardcover and e-book now on Amazon.
Thanks for giving us insight into your work,
Vanessa