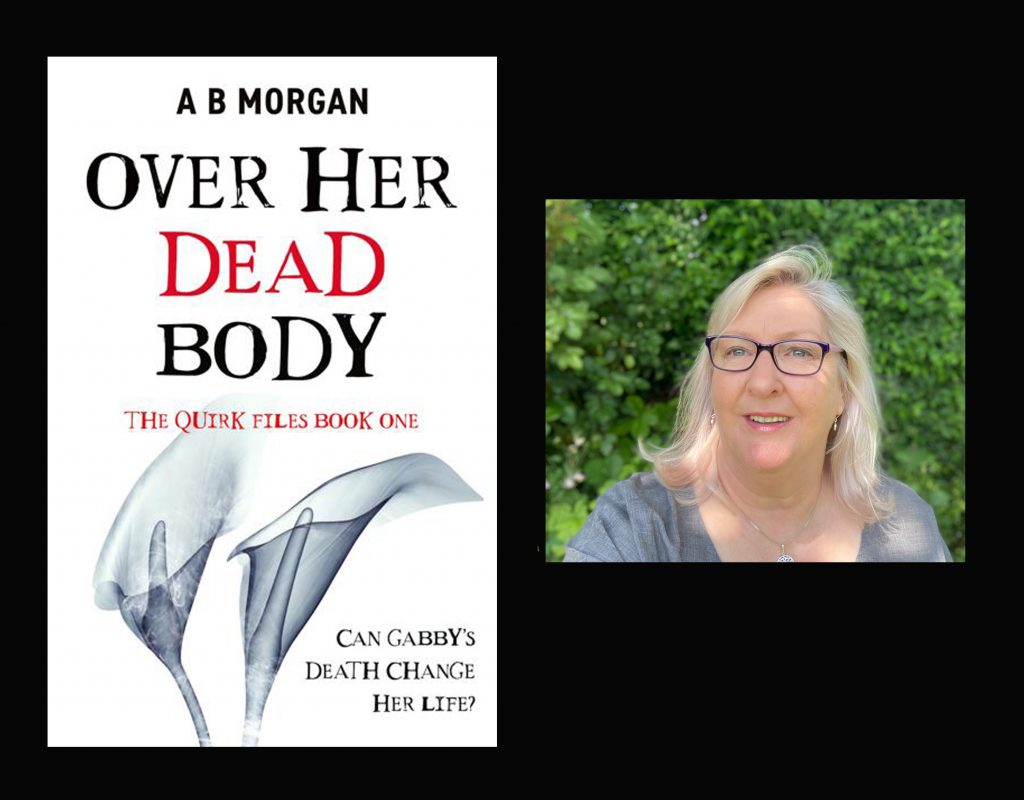 A B Morgan Writes Quirky Psychological Suspense Novels
British author Alison Morgan is a retired mental health nurse who first ventured into the world of the crime writer in 2017 when her acclaimed debut novel A Justifiable Madness was published by Bloodhound Books, shortly followed by three more psychological suspense titles.
Writing under the name A B Morgan, Alison is a professional member of the Crime Writers' Association.
Alison writes with quirky wit and yet delivers on suspense and intrigue without alienating the squeamish reader. Her contemporary mystery series, The Quirk Files began life with Over Her Dead Body, published in 2021, which introduced the world to the delightful husband-and-wife team of private investigators, Peddyr and Connie Quirk. The popular Quirks have now spawned a prequel novella and three novels to date with a fourth book on its way.
Happy to share her experiences of becoming a crime writer, in and around Bedfordshire where she lives, Alison gives lively entertaining talks and presentations on the subject, always with a certain humor and bags of enthusiasm.
With her narrating and audio editing skills polished through much practice, Alison can now add audiobook narrator to her CV.
Do you have a "real" job other than writing, and if so, what is it? What are some other jobs you've had in your life?
I retired from 30 years in the NHS because I developed a pesky electrical fault with my heart. At the time I was Clinical Nurse Manager for a specialist psychosis service as well as a qualified nurse prescriber and advanced practitioner and was mortified that my beloved career had ground to a halt. I still miss the office banter and camaraderie. Now I'm a writer, public speaker and narrator, really cool grandmother, dog walker and biker-wife.
Have any of your jobs outside of writing influenced your writing?
It's fair to say that being on the front line of mental health services gave me plenty of 'fodder' for becoming a crime writer and has afforded me a privileged insight into human behaviors in their most bizarre extremes. Having said that, I also worked in hotel and catering before I had my children; waitressing, bar work, hotel jobs, and front of house management is hard work but a great way to people watch. I made good use of my working life experiences within my writing, and I still do.
What compelled you to write your first book?
When my health failed, and I could no longer continue nursing or racing around at top speed, I had to find something to occupy my overactive mind or risk insanity while I sat on an NHS waiting list for treatment (ironic, isn't it?). With burnout evident, I couldn't settle down to write useful clinic guidelines on the assessment of first episode psychosis – which is what I thought I should do. Instead, I set my brain a new challenge: Write a fiction book.
Have you always wanted to be a writer?
Please don't laugh, but the answer to this question is no. Aged 6yrs, when life was simple, I wanted to be a rag and bone man so I could have a horse. By the time I left school I had no idea where my talents really lay apart from being somewhat rebellious and dippy. I loved music but wasn't musical, I loved theatre and drama but could never remember all the lines, and my best subject was geography. What to do? I opted for hotel and catering because it involved people, food and drink. Simple logic. After that, nursing called. In my defense, I have written some rubbish comic poetry and once wrote a play based on a tongue-in-cheek Victorian melodrama. Actually, it was highly entertaining and got loads of laughs. I have always loved the power of words and possess a lively imagination, so I put my mind in a different gear, freed up my creative side and stepped into the world of the writer with optimism.
Tell us a little bit about your books. What is the title of your most recent one?
My most recent offering to the crime readers out there, is Verity Vanishes, Book 3 in The Quirk Files series (although there is also a prequel novella). I should make it clear that I don't write hardboiled gritty gore-fests or action thrillers. Neither are my books cozy in the true sense, although they do cover murders, deaths, mysteries etc., while at the same time containing witty humor and some fruity language when appropriate. In Verity Vanishes, private investigators Peddyr and Connie Quirk are asked to trace a missing woman. As with all my stories, things are not what they seem on the surface. Verity Vanishes will be launched into the world on 26th July.
Are you currently working on any writing projects our readers should watch for release soon?
Not content with simply slogging away for hours to finish another book, I also narrate for audiobooks. My lovely publishers at Hobeck recognized a certain talent during a hilarious phone chat when I signed my first contract with them. I have always been somewhat of a mimic, and local accents fascinate me. Adrian Hobart (The 'Ho' of Hobeck) has years of broadcasting experience at the BBC and also narrates. With his guidance and encouragement, I have so far narrated the Quirk Files series and have progressed to narrating for other Hobeck authors. I love it! Mind you, the editing process is almost as long winded as it is for a manuscript. Verity Vanishes will be released in audio, hopefully at the same time as the paperback and e-book versions.
What one thing are you the most proud of in your life?
Apart from my children and my nursing career, I am proud to say that at the tender age of fifty-blah-blah, I passed my motorbike test. Not content with riding pillion anymore because it results in a numb derriere, I took the plunge and booked a series of lessons. It's quite a challenge: A theory test, Compulsory Basic Training test, module one (slow riding in a series of tests with examiner) then the big test out on the road. My bike is called Bernard – named after one of the characters in The Quirk Files. He's a splendid Triumph Bonneville T100 and I've even ridden him many miles in the UK and once in France, and around the Isle of Man TT course (very slowly). You see, you can teach old dogs new tricks.
Hey, let's get morbid. When they write your obituary, what do you hope they will say about your book/s and writing? What do you hope they will say about you?
This is a great question. I hope when I die that people will say my books are as quirky as I am and that I loved to bring a smile to people's faces with entertaining stories. One of my bookish friends tells everyone I have "funny bones," I thought I was normal. Perhaps my headstone could say, "Here lie the funny bones of Alison Morgan." If I get a choice in the matter, I'd like to die laughing in the company of good mates sharing a story over a glass of cider.
Where do you write? Set the scene for us when you are writing. What does it look like? On the couch, laptop, desk? Music? Lighting, handwriting? Or do you write at a coffee shop or other location?
I am a lucky individual. When in writing mode, you will find me in my writing shack, a small wood cabin at the top of the garden. I walk up a sloping lawn every weekday as if I'm going to work and I settle down at my desk, which doubles as an audio recording studio. The "shed" is filled with random stuff; a rocking horse, a skeleton, an inflatable monkey, a coat stand where there hangs a noose, several hats and a number of wigs. There are books everywhere and the trappings I take with me when giving talks or facilitating workshops. I write on a computer making use of Scrivener software to aid the process but make copious scribbled notes in notebooks and often refer to these as I write. I sit in a proper office chair and write in silence. The rest of the time I'm talking to myself. (In other words, recording audio)
Now that you are a published author, does it feel differently than you had imagined?
The weird thing is, I never imagined I would become a published author. When the possibility became a reality, it was nothing like I predicted. For a start I had to take the plunge and get to grips with social media. I stumbled my way through the editing processes and had no idea what was expected of me. However, holding that first book in my hands was a great feeling. It took me a long time to feel okay about not being a nurse anymore and only now do I say, "I'm a writer."
Author info:
The Quirk Files can be found at www.hobeck.net as can some lovely crime friction freebies for subscribers. Books by A B Morgan are available on Amazon and elsewhere and include the following titles:
A Justifiable Madness (2017)
Divine Poison (2017)
The Camera Lies (2018)
Stench (2018)
Death By Indulgence (2019)
The Bloodline Will (2020)
The Quirk Files Series:
Prequel novella only through Hobeck Books, Old Dogs, Old Tricks (2021)
Over Her Dead Body (2021)
Throttled' (2021)
Verity Vanishes (July 26th 2022)
Contributor to: The Dark Side of Christmas: An anthology of Twisted Winter Tales.
Audiobooks are also widely available.
For the odd blog post and news www.abmorgan.co.uk https://www.facebook.com/ABMorganwriter
https://twitter.com/AliMorgan2304.
Thanks so much fort telling the readers about your work,
Vanessa