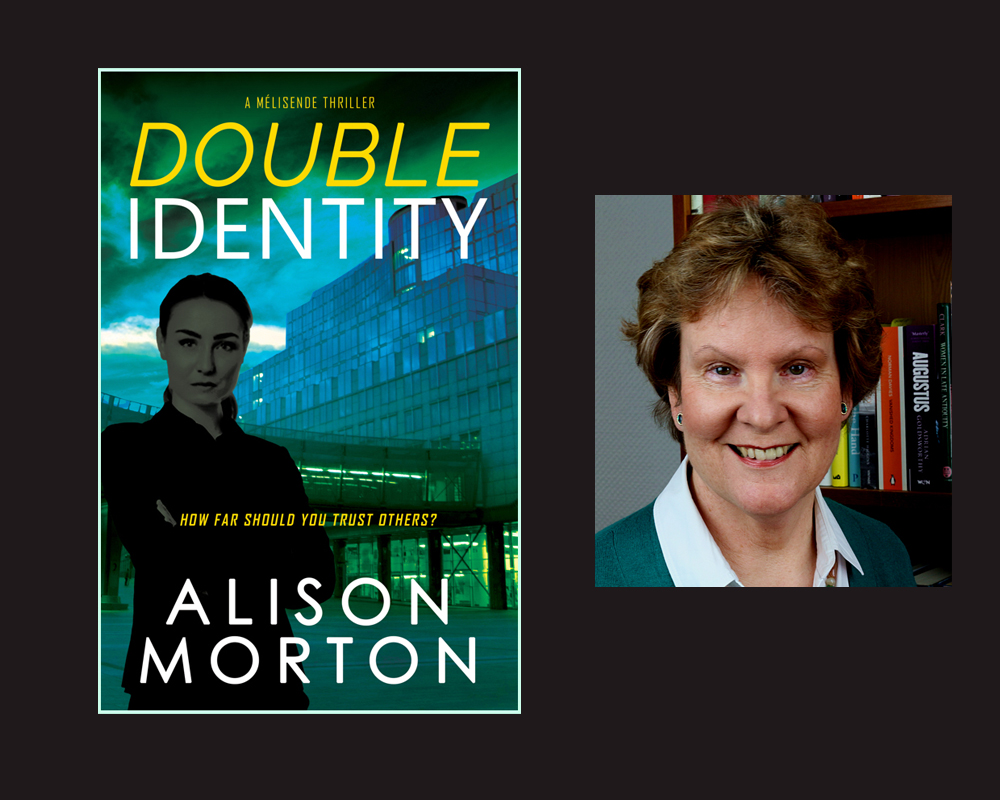 Alison Morton writes award-winning thrillers featuring tough but compassionate heroines
Alison's nine-book Roma Nova series is set in an imaginary remnant of the ancient Roman Empire that has survived into the 21st century and is ruled by women who face conspiracy, revolution and heartache, but with a sharp line in dialogue.
Alison blends her deep love of France with six years military service and a life of reading crime, historical and thriller fiction. On the way, she collected a BA in modern languages and an MA in history. She now lives in Poitou in France, the home of Mélisende, the heroine of her latest two contemporary thrillers. Oh, and she's writing the next Roma Nova story.
Inceptio has gained #1 spot on Amazon US, UK, Canada and Australia. Aurelia was a finalist in the 2016 Historical Novel Society Indie Award and The Bookseller selected Successio as Editor's Choice in its inaugural indie review.
The Mélisende contemporary thrillers, Double Identity and Double Pursuit, feature a no less tough and spirited heroine–an ex-French special forces intelligence analyst–and are set in France, UK, Belgium, Italy and Africa.
What compelled you to write your first book?
A really bad film in 2009! The photography was splendid, but apart from Ewan McGregor, everything else was dire. I whispered to my husband that even I could do better. So he whispered back, "Well, why don't you?" Like many of us, I had an alternative life story whirling around my head, so I went home and poured 90,000 words of it into my computer in 90 days–the first draft of my first book, Inceptio.
Have you always wanted to be a writer?
I'd never thought about it until I wrote that first script. I'd translated professionally, written government and military reports, corporate documentation, legal agreements, PR materials–everything except creative fiction! I could string words together reasonably grammatically and in a logical order, but with that first (terrible!) draft in my hand, I set about learning the art and craft of fiction writing via classes and courses. I've been a voracious reader since I was five when they let me into the Aladdin's cave of the public library. As for plotting stories, forming characters and building settings, let me just say that many of my school reports ran, "Alison has an over-active imagination."
Tell us a little bit about your books.
Roma Nova is a stetch of the imagination. It's a leap into the world of "what if." Imagine a small country in south central Europe that has managed to keep its Roman nature and culture for centuries and, for practical reasons, is run by women. One heroine, Carina, is a lost heir and in Inceptio, she struggles when she first arrives from the (imaginary) Eastern United States, but she grows into her innate personality during an undercover operation. Later in the series (Carina, Perfiditas and Successio), she's a Praetorian intelligence officer and deals with betrayal, attempted regime change and an enemy within. In the second strand in the series, protagonist Aurelia is a "blood-and-bone" Roma Novan, but as well as undertaking dangerous missions, she battles a particularly nasty enemy in her books (Aurelia, Nexus, Insurrectio and Retalio).
Each book has a theme–female empowerment, betrayal in all its forms, breakdown, power abuse, resistance–but my principal aims are not only to give readers a cracking thriller, but also to provoke them to think about the roles of women and men as well as the idea of "what if."
The Mélisende thrillers are historical novelist Conn Iggulden's fault! He kindly endorsed Insurrectio, but strongly recommended I had a go at a contemporary thriller, again with with a female protagonist. I live in France and have wanted very much to set a book here.
Mélisende has a French father and English mother, and at the start of Double Identity, she's just finished her time as a Special Forces intelligence analyst and is ready to settle down when her fiancé is murdered in strange circumstances. She is drafted into a mysterious European service that "fixes" criminal ripples. She's effective, impatient but self-doubting. She never knows whether she's military, civilian, English or French–a glorious character to write! Double Pursuit follows, where she is both hunter and prey. I expect there may be a third adventure in the future.
Are you currently working on any writing projects our readers should watch for release soon?
Yes!
I'm finishing Julia Prima, the story of how Julia and Lucius met – the couple who began the dynasty that founded Roma Nova. My readers are intrigued by the references scattered through the Roma Nova thrillers and asked me to write the origin story. It's more of a historical novel as it's set in the 4th century towards the dusk of the Roman Empire, but as a thriller writer I couldn't stop myself weaving in a bad guy bent on revenge.
Do you belong to any writing forums or organizations that have helped spur your career as a writer? If so, tell us about them and how they've helped you.
I would never have reached the stage of writing my twelfth fiction without other writers. First, my local novel writing group in the UK where I met my critique writing partner–we still swap manuscripts, and pore over plot points, dialogue, research, etc. in our weekly Skype. The Romantic Novelists' Association ran conferences, classes and a mentoring scheme which was invaluable in learning craft as well as showing me how to bring emotional charge to my writing. The Historical Novel Society brought me into contact with an impressive level of expertise and technique as well as the great and the good in that genre. Such contacts are invaluable for any writer.
As the indie sector gained more than a foothold in the publishing world, I joined the influential Alliance of Independent Authors, which had some exclusive and direct channels into the book world. Joining the International Thriller Writers gave me an international perspective and I love participating in their round table discussions.
Most recently, and this is how you and I "met" albeit it virtually, I joined the Crime Writers' Association where I already have many friends and colleagues. In brief, writers should flock together as they can learn so much from each other and later give back to other writers who are at an earlier stage in their writing.
How did you feel the day you held the copy of your first book in your hands?
Thrilled out of my socks!
What type of music, if any, do you listen to while you write?
None. I must write in complete silence. In our purpose built office in the basement of our house, my husband (voluntarily!) wears headphones, as he does write to music.
The main characters of your stories–do you find that you put a little of yourself into each of them or do you create them to be completely different from you?
Haha! I think at least a little of the author infiltrates any story however much they think it doesn't and however hard they try to keep it out. Perhaps creating a variety of characters in our books is a way of expressing hidden parts of our own personality. Or possibly we model the villain on somebody from our past who stole our cake, queue-jumped or took unfair advantage. Never upset a writer…
Many authors have said that naming their characters is a difficult process, almost like choosing a name for their own child. How did you select the names of some of your lead characters in your books?
This can be a nightmare for the Roma Nova books. As it's a Roman society, I stick to Latin names but there was/is not the range of Latin names that are available for contemporary names in our multicultural society today. For the Mélisende series, it's reasonably easy to make up names, and you can check lists online of common and uncommon names for any country and time period. However, when I've decided on a character name, I always check on Google in case there is a famous person with that name. I don't want to be sued!
Is there anything else you want your readers to know about you? Include information on where to find your books, any blogs you may have, or how a reader can learn more about you and writing.
Thank you so much for hosting me, Vanessa. My books are available in multiple places worldwide: ebook on Amazon, Apple, Barnes & Noble and Kobo and the paperback on many online stores including Amazon, Barnes & Noble, Book Depository, plus readers can order through their local bookshop and library.
If readers would like to find out background, characters and research (there are always photos) and sign up to my monthly newsletter, here are a few links:
Alison's thriller site: https://alison-morton.com
Alison's writing blog: https://alisonmortonauthor.com
Goodreads: https://www.goodreads.com/author/show/5783095.Alison_Morton
Alison's Amazon page: http://Author.to/AlisonMortonAmazon
Newsletter sign-up: https://www.alison-morton.com/newsletter/
And of course, there's social media:
Facebook author page: https://www.facebook.com/AlisonMortonAuthor
Twitter: https://twitter.com/alison_morton @alison_morton
Instagram: https://www.instagram.com/alisonmortonauthor
Thank you, Alison for a lively, fun interview,
Vanessa