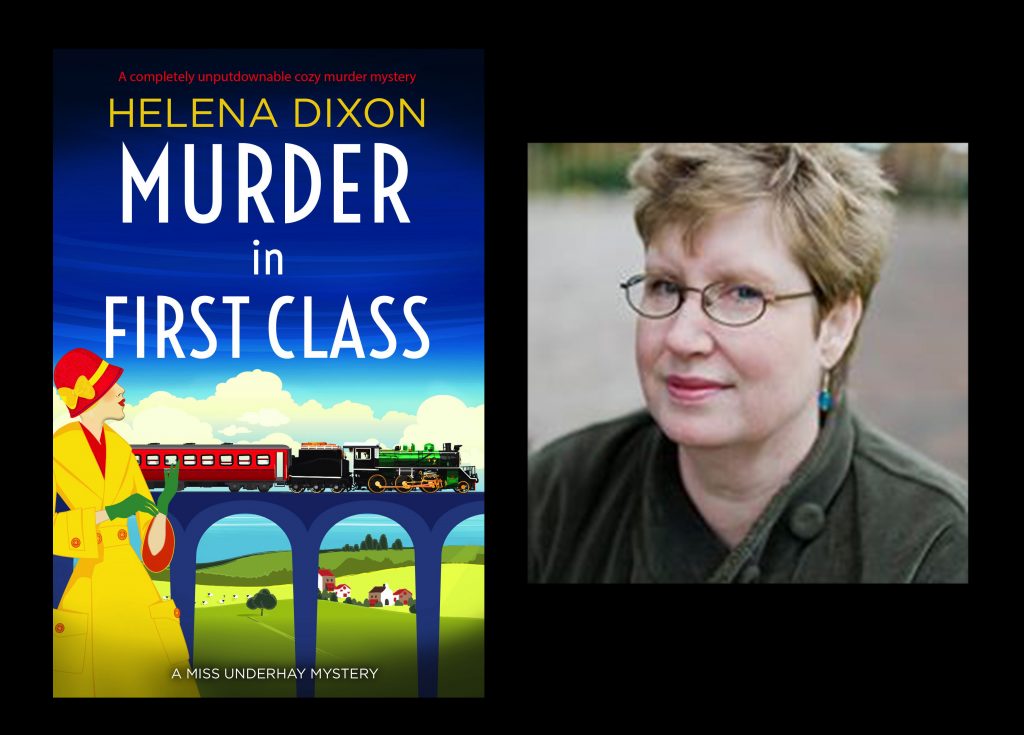 Helena Dixon Writes Cozy Historical Mysteries Set in 1930s Torbay, and Lives only a Mile from Greenaway, Dame Agatha Christie's Former Residence
Here's some background on Helena Dixon:
Mystery Author Helena Dixon splits her time between the Black Country and Devon. Married to the same man for over thirty-five years she has three daughters, a cactus called Spike, and a crazy cockapoo. She is allergic to adhesives, apples, tinsel and housework. She was winner of The Romance Prize in 2007 and Love Story of the Year 2010 as Nell Dixon. She now writes historical cozy crime set in 1930's Torbay.
Do you have a "real" job other than writing, and if so, what is it?
What are some other jobs you've had in your life? I'm now a full-time writer but until recently I worked in end of life palliative and dementia care. I'm a qualified nurse, midwife and health visitor and also have a prescribing qualification. Something that comes in very useful when deciding on a poison.

What compelled you to write your first book?
I've always had stories running through my head ever since I was young. I'd often lose myself in imaginary worlds. I joined my first writers' group when I was twelve and I've been creating stories ever since.
Have you always wanted to be a writer?
Yes, I couldn't imagine not writing. Whenever there have been points in my life when writing has had to take a back seat it's been like having an itch that needs to be scratched.
Are you currently working on any writing projects our readers should watch for release soon?
I'm writing the next book in the Miss Underhay series. These are murder mystery books set in 1930's Torbay, a small area of South Devon in the UK and home to Dame Agatha Christie. Her former house, Greenaway, is just a mile or so from my cottage.
My latest release is Murder In First Class, a classic locked room mystery. Here's the back cover blurb:
"All aboard a train bound for… murder.

Kitty Underhay is looking forward to a week of long lunches and wedding planning with her husband-to-be, Captain Matthew Bryant. But the plan is derailed when he is called on to collect a former comrade-in-arms, arriving on the 15:50 from Paddington. As the train bearing Simon Travers pulls up to the platform, a piercing scream rises over the screech of its brakes. Travers is dead in his seat, a dagger in his heart.

Who gave this defenceless man a one-way ticket to the next life? And why? And could Matt's close connection put him at risk? Only a few individuals had access to Travers's compartment, and Kitty must find out which of these seemingly benign passengers is in fact a cross-country killer.
But when Kitty's prime suspect, the travelling salesman with no merchandise, is found murdered, she is stumped. Until she makes the connection between the two victims and realises that this murderer has an even more deadly destination in mind. Can she stop them before they strike again? Or will Kitty's own next stop be the graveyard?"
Other books in the series are:
Book 1, Murder at The Dolphin Hotel
Book 2, Murder at Enderley Hall
Book 3, Murder at the Playhouse
Book 4, Murder on the Dance Floor
Book 5, Murder in the Bell Tower
Book 6, Murder at Elm House and Book 7, Murder at the Wedding.
Book 9, Murder at the Country Club is out for preorder now.
What inspires you and motivates you to write the very most?
I'm very fortunate to live in a beautiful part of the world with dramatic coastlines and green rolling hills. My cottage has a view of the sea from the kitchen and bedroom windows and a view of a sheep farm from my lounge. I'm able to walk by the sea and visit lovely places such as Coleton Fishacre, a gorgeous jazz age house, Greenway and Oldway Mansion.
What about your family? Do you have children, married, siblings, parents?
Has your family been supportive of your writing? I've been married to my husband for over thirty-five years, we met while we were at school, so I've known him since I was eleven. We have three lovely daughters and now also have a gorgeous one year old grandson. My family have always supported my writing and tell everyone about my books.

Do you have any pets? What are they? Tell us about them.
I have a small brown cockapoo called Teddy. He's seven now and just as daft as when he was a puppy. When I write he likes to lie under my chair. If he thinks I have been writing too long he'll bring me a toy or paw my knee, so I know it's time to play or take him for our daily walk. He loves to go to the beach, but I have to watch him as he burrows in the sand.
Do you watch television? If so, what are your favorite shows?
Does television influence or inspire your writing?
I don't watch much TV and when I do it tends to be things like The Great Pottery Throwdown or Escape to the Country. I love Taskmaster and enjoy shows like Midsummer Murders and Death in Paradise. I don't like thrillers, and I never watch the news.
What about movies?
I'm not a fan of films and rarely watch them. I do love going to the theatre and love plays, ballet and especially musical theatre. Just lately I've seen Chicago and Six which were both fabulous!
Now that you are a published author, does it feel differently than you had imagined?
I have nearly forty books published now in both crime and romance but since my first book was taken up things have changed. Authors are more accessible now to the readers and I spend a lot of time answering messages and interacting with readers than I did before the various social media platforms took off.
You can find me on twitter @NellDixon Instagram @HelenaDixonauthor on my website https://www.nelldixon.com and my blog: https://nelldixonrw.blogspot.com.
And on Facebook, as Nell Dixon.
Thank you, Helena. I'm sure the readers will find your newest cozy mystery a great read,
Vanessa