Is it always as obvious as the man in this picture?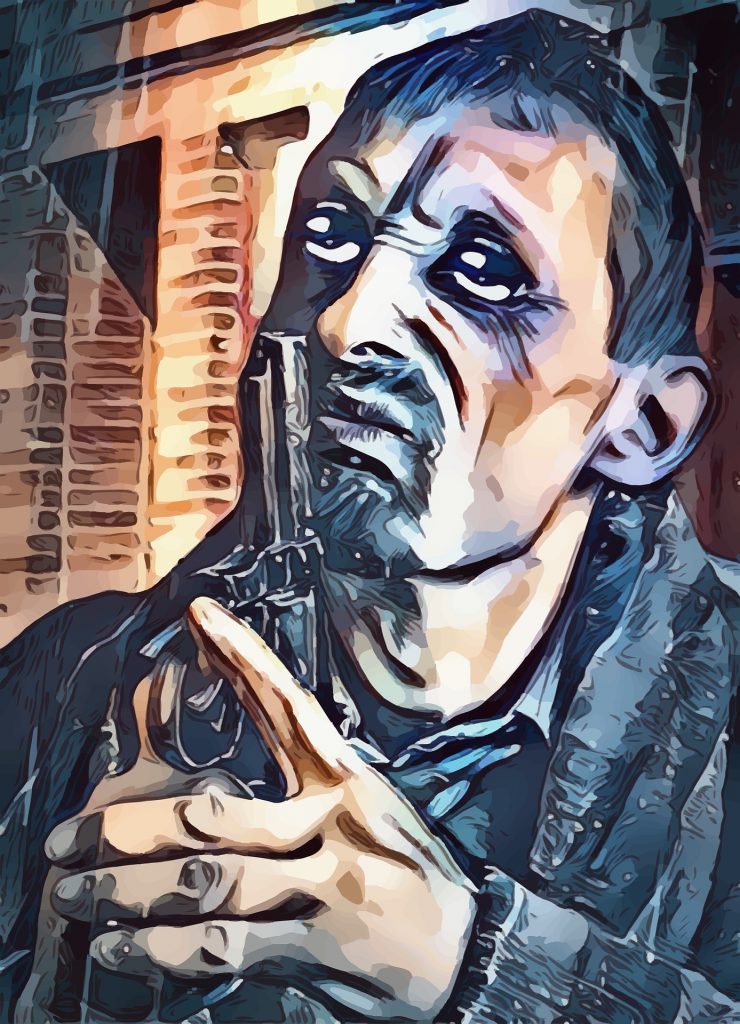 Is it always obvious
Every story, whether it's a mystery, comedy or drama needs an opposing force that tries to defeat what the main character, or hero wants to accomplish or keep. That opposing force is the villain in the story. That opposing force isn't always an actual person(s) or a sentient being. It may take the form of a natural disaster, a disease or an impending threat, such as pollution or war. On a more personal level the villain might be a disability, bullies, poverty or annoying relatives. In a mystery novel it is usually a person or group of people who are bent on thwarting or killing others.
I have to admit, as an actor, I love playing the villain. I played the villain once in a TV show. I was the wife who beats up her husband. I may have played my part a little too well because the crew was a little leery of sitting next to me at lunchtime.
In a children's mystery, the villain is obvious. He or she is the mean or crabby person who tries to do something bad to the main character(s). In stories for very young children they are one-dimensional with no redeeming qualities and they must be defeated. To make sure there's no doubt as to who the villain is, writers sometimes name their characters Mr. Crabby or Mrs. Meany. But often in stories for older kids the main character persuades the villain to stop being a villain by convincing them that being good is being better than being bad.
In an adult mystery novel, there's a murder or a threat to the main character(s) and the reader tries to figure out who done it. In novels that are considered thrillers, we know who the killer is or who wants to harm the hero (heroine), and it's a matter of how the main character escapes or catches the villain. But in traditional mysteries, the author leaves clues about the villain in order to keep us wondering and guessing until the end, when the villain is caught or revealed. If the author makes this too easy to figure it out, we, as readers, feel cheated. Figuring it out on our own is part of the fun of reading a mystery.
But is the villain always the most evil character in a mystery novel? Not necessarily. In cozy mysteries, so called because the murder and violence happens off the page, sometimes the bad person gets killed off in the beginning of the story. Because this character is portrayed as rotten or as a horrible bully or as someone who's cheated the other characters in the story, the reader isn't too perturbed. After all, that character was a horror to be around. So who done it, when all the other characters appear to be nice people? Or sometimes they all seem to have a strong motive and we can't figure out who the culprit is. Take for example, Agatha Christie's, Murder on the Orient Express. But if you haven't read it, I won't spoil it for you.
And as in real life, villains aren't always all bad. They may have redeeming qualities or they may be the lesser of two evils, as in those novels about Dexter Morgan. He's the serial killer with a conscience. He kills only murderers who seemed to have gotten away with it. He's there to make sure they don't escape justice.
In fact, I think it's intriguing to read about characters who are generally decent people but make poor choices when they get caught in bad situations and end up committing crimes they now have to cover up. Because, after all, they didn't mean to commit these crimes. Unfortunately for them, someone finds out and traps them. It could be the police or a blackmailer who's a worse criminal. Or in each episode, they're one step ahead of being found out. This happens in noir novels, where the main character is often a flawed individual. Nevertheless, we often root for this character. We don't want him or her to get caught, such as in Patricia Highsmith's novel, The Talented Mr. Ripley.
Anyway, time for me to conjure up my next villain for my next novel.
Thanks for reading,
Vanessa
Author:
The Trouble With Murder, D.X. Varos, Ltd, 2022
Hidden Agenda, Forget Mellemgaard APS (in Danish) 2021
The Cubist Caper, Forget Mellemgaard APS (in Danish) 2022
A Palette for Murder, A Lana Davis Mystery, Five Star Publishing, a part of Gale/Cengage Learning 2015
A Blue Moon, CCHB 2013
https://twitter.com/Vanessa_A_Ryan
https://facebook.com/VanessaARyanNovels