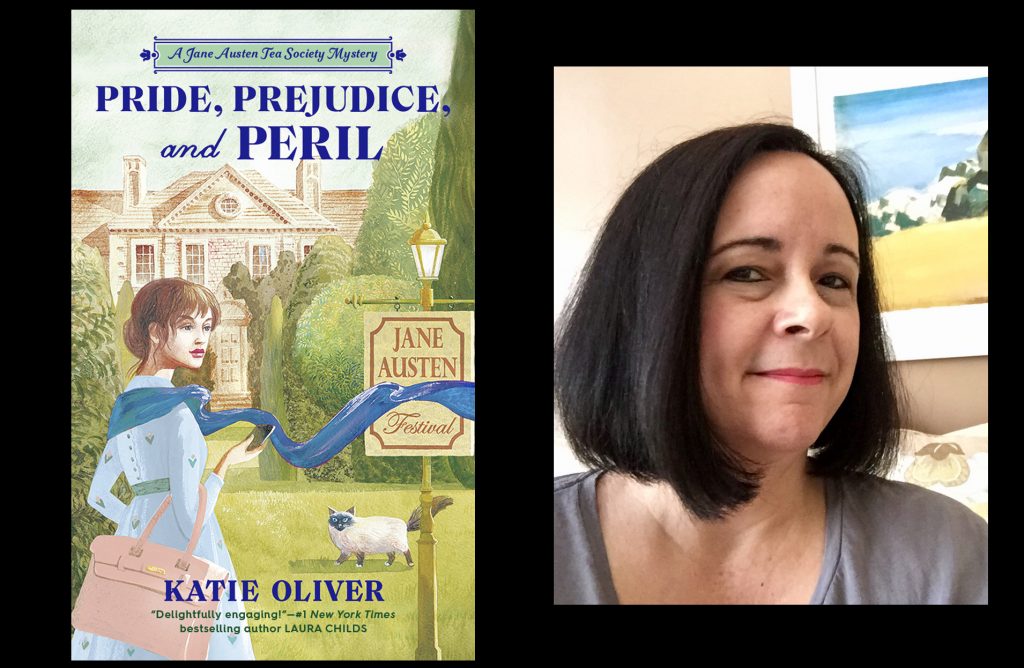 Katie Oliver is the best-selling author of the new Jane Austen Tea Society mysteries
Tell us a little about yourself and about your life:
Like most writers, I have a box full of old (unpublished) writing material. Most of it bad. I managed to improve over the years, and now have ten published books to my name, one an Amazon bestseller. My latest, Pride, Prejudice, and Peril, was published by Berkley Prime Crime in December.
I started life in Washington, D.C. and grew up in Northern Virginia, where I lived until about seven years ago. I currently reside in South Florida with my husband, Mark, a never-ending pile of laundry, and a stack of bedside books, most of them cozy mysteries.
I write at my desk every day on an iMac computer. The 24-inch screen makes writing and copyediting much easier. I wrote my previous books while squinting at a laptop. I keep my current book synopsis handy, along with notes, research, and reference material. And a cup of coffee.
When I'm not writing (which isn't often), I watch murder mysteries on TV, bake cookies, or read. In addition to cozy mysteries, I like to read cookbooks. I study the recipes and think one of two things: 'someday I'm going to make that,' or 'that's never going to happen.' We have two sons and four grandchildren and whenever they come to visit, we head to the beach.
I'm a terrible procrastinator except when it comes to writing deadlines. Those, I stay well ahead of. Any writer who's been under the gun on a deadline knows it's not a pleasant place to be.
What compelled you to write this book?
Boredom! I worked as a technical editor for a defense contractor for many years. I was between contracts at the time and didn't have a whole lot to do, so I grabbed a legal pad and thought about writing a book. What should I write? What did I like to read? The answer, for me, was romantic comedy. Bridget Jones was all the rage and every other movie was a rom-com. I formulated a plot about a privileged British girl named Natalie Dashwood. When her family department store is about to close, she must work to save it and finds love along the way. Prada and Prejudice was the first of a three-book series published by Carina UK, and went on to become a bestseller on Amazon.
Have you always wanted to be a writer?
Since I was about eight years old. Going to the library and learning I could actually TAKE BOOKS HOME was a life changer. I gobbled up books – picture books, storybooks, mysteries, biographies. I loved reading about far-flung places like Scotland, San Francisco, Japan. One rainy, boring Sunday I took some typing paper (we still used typewriters in those days) and folded it into quarters. I wrote a story on the pages, illustrated it, stapled it all together, and my dad, God bless him, bought it from me for fifty cents. My career as a writer began.
I'm a fan of everything Jane Austen. I'm amazed at how you've taken her world and used it to craft a modern-day mystery series around it. What a great idea! Tell us a little bit about your book. What is the title?
Pride, Prejudice, and Peril is my first cozy mystery for Berkley. I fell in love with murder mysteries when I read my first Nancy Drew book, "The Quest of the Missing Map," and have long admired Jane Austen, particularly her novel, Pride and Prejudice. I combined both to create a series about an English professor/Jane Austen scholar, Phaedra Brighton, who teaches at a small liberal arts college near Charlottesville, Virginia. She becomes a reluctant amateur sleuth when her newly-married best friend is accused of killing her husband. There's also a Mr. Darcy in the mix—the newest member of the faculty, Professor Mark Selden. He's an Oxford-educated professor of Comparative Literature, a Shakespearean scholar, British…and in Phaedra's opinion, woefully lacking in appreciation of Austen.
Since you've written more than one novel, which is your favorite?  Let us know what they are about. Pay particular attention to your most recent book and/or your first book:
I think the answer, for most authors, is the most recent book we've written. Which for me means A Murderous Persuasion, book number two in my Jane Austen Tea Society mysteries. In her second outing, Professor Phaedra Brighton hosts an immersive Jane Austen murder mystery week at her aunt Wendy's bed and breakfast. The theme is Persuasion and the murder victim is fictional – until one of the guests is found dead in the herbaceous border. Regency author Harriet Overton was pedantic, opinionated, and widely disliked, so there are suspects aplenty . . . among them Phaedra's own aunt, Wendy.
My second favorite book is and always will be Prada and Prejudice. I had such fun writing it, imagining a world very different from my own. The characters became real to me and I just had to share their story. I'm proud of that one because it was my first published book, and also because I was still working full time while writing/publishing/and promoting it. Looking back, I don't know how I did it!
Are you currently working on any writing projects our readers should watch for release soon?
I've completed book two in the series, A Murderous Persuasion, which will be out in January 2023, and have started writing book number three.
What type of music, if any, do you listen to while you write?
I prefer to write in a quiet environment, but I find inspiration in music when I walk or relax. I listen to everything from B.B. King to Pink Floyd to Mozart. Songs that tell stories draw me in every time. "Cat's in the Cradle" by the late Harry Chapin tells a story with a poignant twist. Mozart's "Agnes Dei" overwhelms me with its beauty; Bach's Brandenburg Concertos are spritely and one of my favorite pieces of classical music. And there's nothing like the Stones or AC/DC to get the brain cells jumping.
What inspires you and motivates you to write?
Watching murder mysteries on television is always motivating. Whether it's Agatha Raisin, Father Brown, Midsomer Murders, or one of the many Hallmark Movies and Mysteries series, I'm fascinated with the motives that spur a person to murder, more than the methods used. The psychological aspect interests me.
The main characters of your stories – do you find that you put a little of yourself into each of them or do you create them to be completely different from you?
My characters have a little bit of me in them, in the sense that the things I've experienced – emotions, setbacks, memories, successes, failures – inform the character's behavior. But mostly, they're entirely fictional. I'm not a spoiled British girl or a professor of English literature, but with a lot of research and a little imagination, I can create those characters, hopefully in a realistic and believable manner.
When growing up, did you have a favorite author, book series, or book?
I loved the Nancy Drew series and still have most of the books. I also liked Frances Hodgson Burnette (The Secret Garden, A Little Princess), Edward Eager (Half Magic, Knight's Castle), and (really showing my age here) the Betsy-Tacy books by Maud Hart Lovelace.
What about now: who is your favorite author, and what is your favorite genre to read?
I love cozy mysteries, particularly anything by Laura Childs. Her Tea Shop Mysteries series is wonderful. Other favorite cozy writers are Jenn McKinlay, Vivien Chien, Kate Lansing, Mia P. Manansala, and Eileen Brady.
Where do you write? Set the scene for us when you are writing. What does it look like? On the couch, laptop, desk? Music? Lighting, handwriting? Or do you write at a coffee shop or other location?
I recently treated myself to a large-screen iMac. After years of using my trusty MacBook Pro, I decided a bigger screen would help my aging eyes. And it has. The extra visual real estate really helps, especially when I'm tackling copy edits.
I write at my desk at home, in a corner of the bedroom. I try (and sometimes fail) to keep the surface clear of clutter, but at any given time you'll see my current story outline/synopsis, character and red herring notes, and a legal pad full of scribblings. My favorite time to write is in the morning with a mug of coffee or an unsweetened cold brew, cream only. Caffeine definitely motivates me when nothing else does.
Now that you are a published author, does it feel differently than you had imagined?
No. It's every bit as wonderful as I thought it would be!
Is there anything else you want your readers to know about you? Include information on where to find your books, any blogs you may have, or how a reader can learn more about you and your writing.
Learn more about me and my books at katieoliver.com or Penguin Random House, and on Twitter @Katieoliver01, Instagram, or Facebook KatieOliverWriter.
Thank you, Katie, for letting us know more about you and your books,
Vanessa